成女学園は1世紀以上の伝統を持つ高等学校です。
生徒たちは、アットホームな雰囲気の中、日々笑顔の絶えない穏やかな学園生活を送っています。

成女学園中学校・成女高等学校のブログです。
学園の日々の様子を、学校長および編集委員が中心になってお届けします。
成女学園ブログ > その他
【表現プログラム】公式インスタグラムを開設!
更新日:2021年01月30日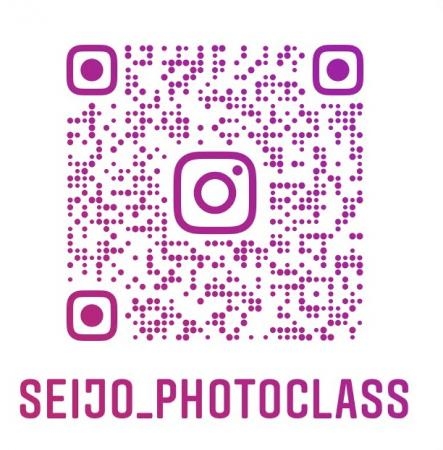 本校独自の授業である表現教育プログラムのフォトコースでは、日頃の成果を多くの皆様に見てもらうために公式インスタグラムを開設いたしました。
インスタグラムの機能を最大限生かして素敵な作品を公開しておりますので、皆様ぜひご覧ください!
〔編集委員〕
春の兆し
更新日:2021年01月28日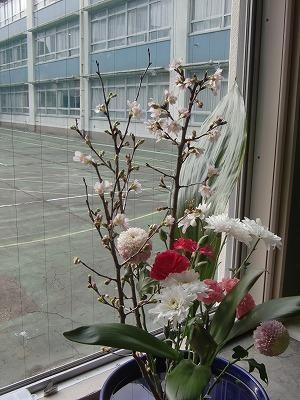 新しい年を迎え、大寒が過ぎ、高校推薦入試を終え、来週3日には立春です。
今年は124年ぶりに、節分が2日(火)となります。まだ、まだ、寒い日が続いていますが、校庭の木々、そして生花の枝の蕾が開花しました。
〔編集委員〕
Let's Introduce New Zealand! #2
更新日:2021年01月25日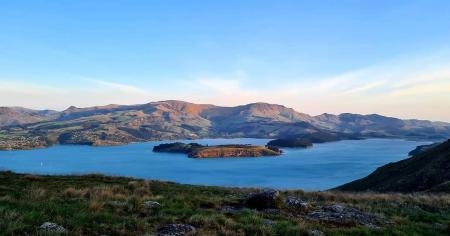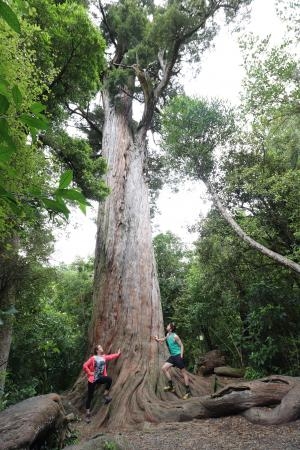 This time I will introduce to you some hiking / walking spots in the South Island of New Zealand.
If you like adventures, you can go on one of the many Great Walks through forests, parks, hills or mountains. There are short walks around 40 minutes or long hikes that can take from 2-5 days! There are all sorts of beautiful hiking trails for people of any level!
The first picture on this blog post is a picture from the top of the Rapaki Track on the Port Hills which is one of the most popular walks in Christchurch city. You can walk, run or mountain bike up this short 45-minute trail. From the top of this track, you can see the neighbouring town of Lyttleton.
The second picture is of another walking track near Christchurch called the "Big Tree Walk". This walk goes through a native forest (a forest made of trees only found in New Zealand) where you can see gigantic Totara trees, this one is almost three meters across, and is thought to be about 1,000 years old.
〔編集委員〕
Let's Introduce New Zealand!
更新日:2021年01月15日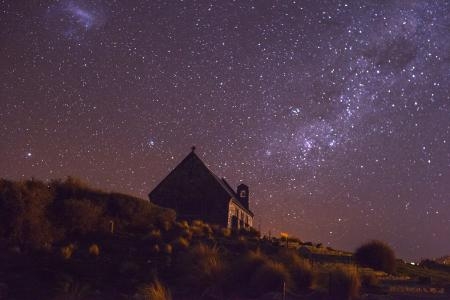 Hello readers!
My name is Lee. I am the new ALT English teacher at Seijo Gakuen and I'm from New Zealand. I would like to tell you some interesting things about New Zealand.
You probably already know our national rugby team, the All Blacks, or that there is more sheep than people in New Zealand, but I would like to tell you some things that maybe you don't know!
New Zealand is one of the most southern countries in the world. It is known for being clean, green and beautiful. New Zealand is about the same size as Japan but only 4.8 million people live there (about ⅓ the population of Tokyo!). Since so few people live there, it is very easy to see the stars at night time. In a lot of places you can easily see the Milky Way with your own eyes!
You can also see the Southern Cross constellation which you can only see if you are in the southern hemisphere!
〔編集委員〕
公式インスタグラム開設しました!
更新日:2021年01月14日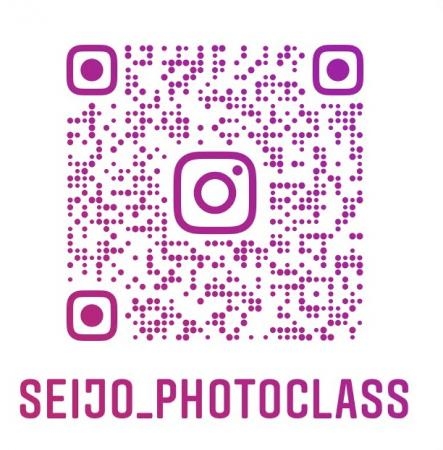 本校独自の授業である表現教育プログラムのフォトコースでは、日頃の成果を多くの皆様に見てもらうために公式インスタグラムを開設いたしました。
インスタグラムの機能を最大限生かして素敵な作品を公開しておりますので、皆様ぜひご覧ください!
〔編集委員〕
Merry Christmas
更新日:2020年12月26日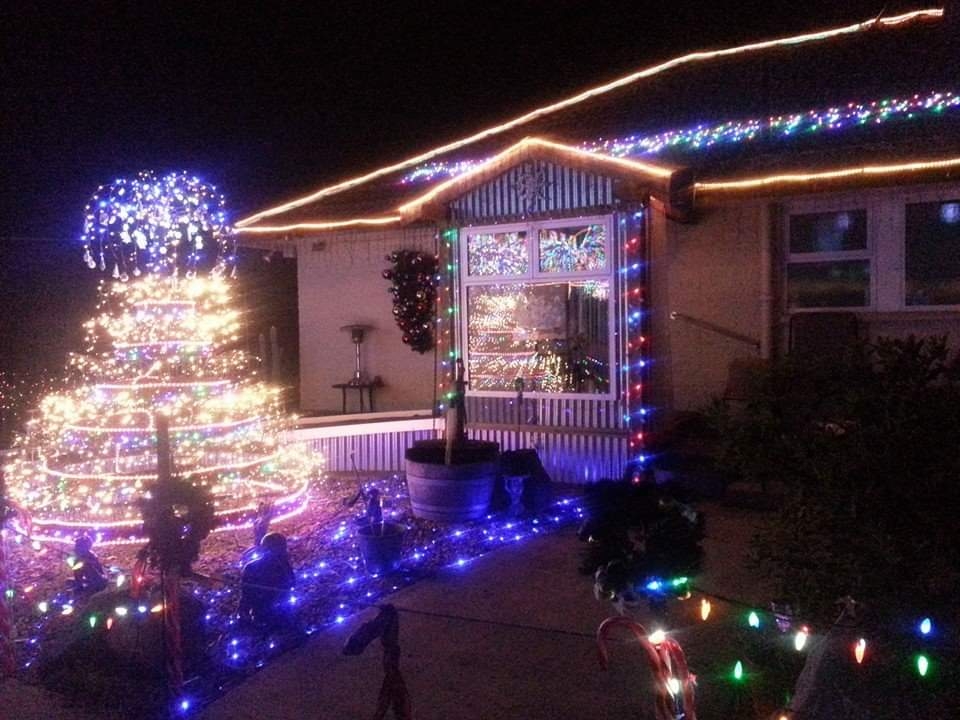 今日はクリスマスです。
今年のクリスマスは、コロナの影響で、おうちで過ごす人が多いと思いますが、欧米では、日本でのお盆や正月のように家族や親戚が集まって、ホームパーティを開いてクリスマスを祝います。
昨日のリー先生の記事はご覧になりましたか?
アメリカのおうちのイルミネーションは本当にすごいですね。
日本は街や公園などのイルミネーションが年々華やかになってきましたが、今年は例年のようなにぎやかさがありません。
来年はコロナが収まって、通常のクリスマスを迎えられるといいですね。
Merry Christmas and Happy New Year!
よい冬休みを!
New ALT - Lee
更新日:2021年01月04日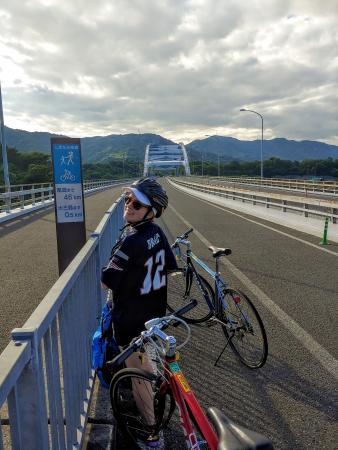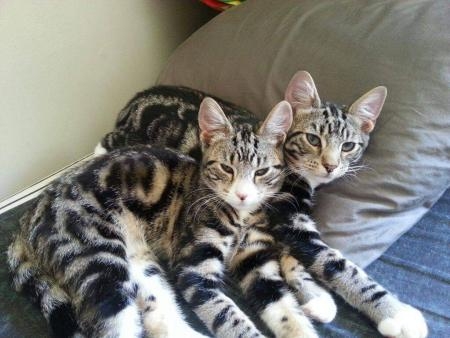 Good morning everyone!
My name is Lee and I`m from Christchurch, New Zealand.
Christchurch is the third biggest city in New Zealand and is located in the South Island.
Let me tell you some famous things about New Zealand! New Zealand is famous for really delicious "flat white" coffee, "Whitakers" chocolate and fish & chips.
New Zealand is also famous for being a very beautiful and clean country. It is such a beautiful country that a lot of movies are filmed there! The Lord of the Rings movies and the new Disney's Mulan movie was filmed in New Zealand!
I come from a big family. I have two brothers and three sisters. I am the second eldest sibling. We also have two cats! Their names are Manny and Sid.
In my spare time I like to play board games with my friends, I like to go to cafes and I enjoy watching movies and Netflix. My favorite drink is bubble tea (タピオカティー). My favorite movie series are Star Wars, Avengers and Harry Potter. I also used to watch anime when I was in high school. My favorite anime were, Pokemon, Assassination Classroom (暗殺の教室), Naruto and Card Captor Sakura.
This is my fourth time coming to Japan, but my first time living in Japan. The last time I came to Japan, I rode the Shimanamikaido from Shikoku to Honshu across the Seto Inland Sea and I climbed Mt.Fuji! My favorite thing about Japanese culture is Kimono culture and all the beautiful temples and shrines. One day I would like to attend a tea ceremony and go watch a sumo wrestling show.
〔編集委員〕
Merry Christmas
更新日:2020年12月25日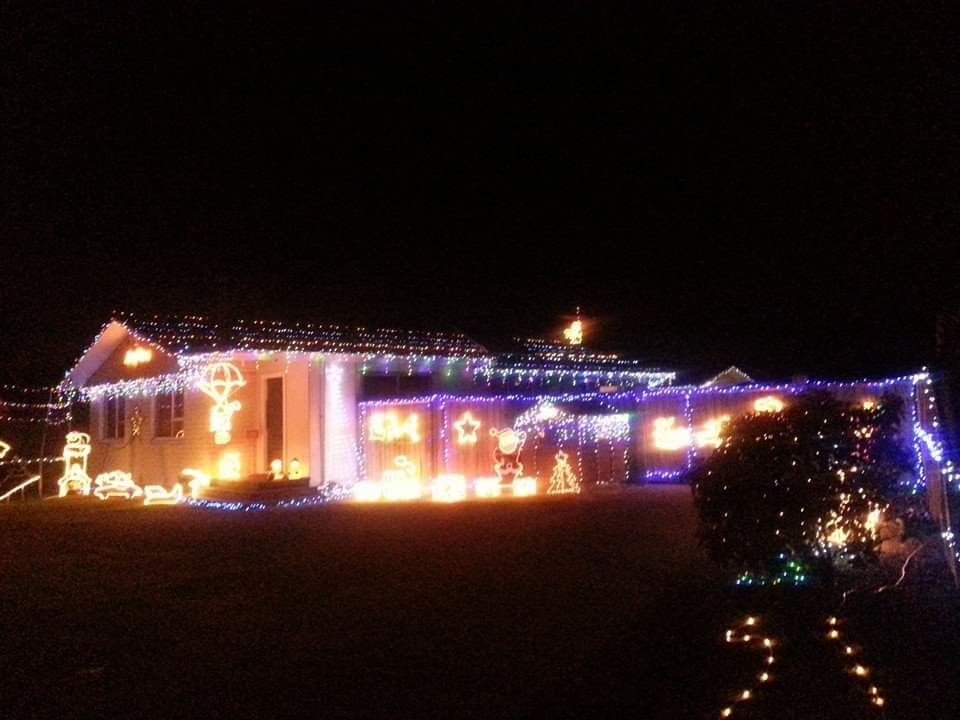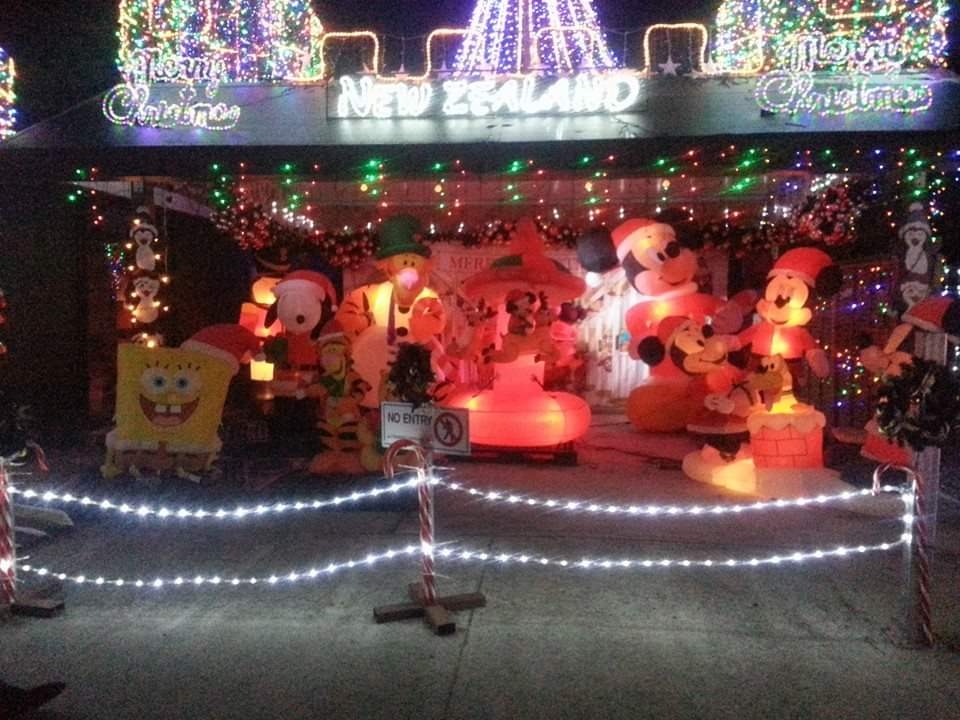 Merry Christmas everyone!
Today it is Christmas Eve. Many of you may be going to go and see some Christmas illuminations today and tomorrow.
Christmas illuminations are a little bit different overseas. A lot of people decorate their houses with Christmas lights and decorations. Decorating your house for Christmas is especially popular in America! Some American people who really love Christmas program their Christmas lights to flash in time to music!
If you would like to see a video of a house in America that has programmed their Christmas lights to music, please watch this video:
www.youtube.com/watch?v=DAp7g-WF9g8
This is what some of the houses decorated in New Zealand look like.
〔編集委員〕
年内最後の「うめむすび」が発行されました!
更新日:2020年12月21日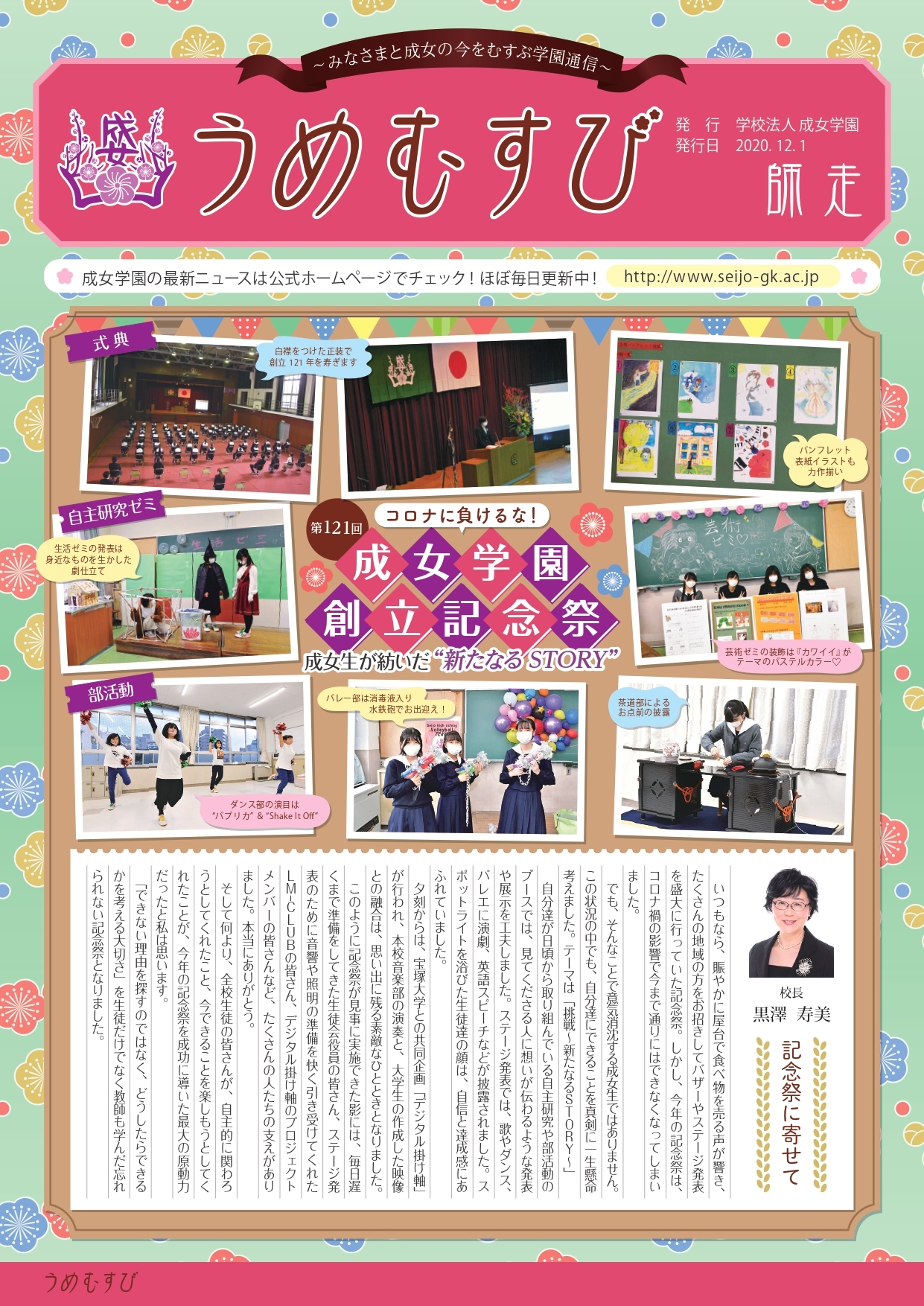 毎月更新している学園通信の「うめむすび」、年内最後の12月号が発行されました!
今月号は本校の文化祭である創立記念祭特集となっております。
在校生の皆さんにはすでに配布しましたが、受験生の皆さんにも説明会でお配りしますので、皆さんぜひともご覧ください!
〔編集委員〕
新しくキレイに作り直しました
更新日:2020年12月12日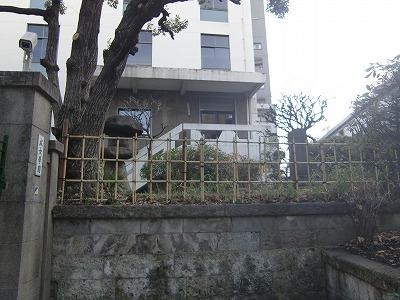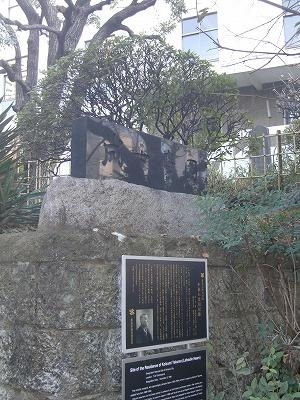 靖国通り沿いにある本校正門横にある、新宿区指定史跡『小泉八雲舊居跡』の碑の前にある外柵を、竹材を使い、新しく作り直しました。
〔編集委員〕